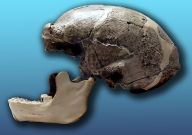 BEIJING, May 4 (Xinhua) -- Chinese scientists will soon launch an excavation at a cave where the first Peking Man skull was found with an aim to find more relics of ape men who were believed to live as early as 770,000 years ago.
The excavation will start in mid May and last two months at the western slope of the Peking Man Site, said Gao Xing, deputy director and a research fellow of the Institute of Vertebrate Paleontology and Palaeoanthropology, in an interview with Xinhua on Monday.
"A skull is something like a lottery. However, it is very likely that we would find animal fossils, stoneware and ruins of fire use," Gao said.
Chinese archaeologist Pei Wenzhong found the first complete skull at the Peking Man Site in Zhoukoudian, about 50 kilometers southwest of the center of Beijing, in December 1929.
Peking Man was previously believed to have lived 400,000 to 500,000 years ago, but Chinese scientists, using a new radioactive dating method, said this year they could have lived as far back as770,000 years ago. The finding was published in London-based science journal 'Nature' in March.
Excavations at the Peking Man Site had yielding more than 200 human fossils, 100,000 pieces of stoneware and animal fossils of 98 mammal species and 62 bird species, according to Gao.